Welcome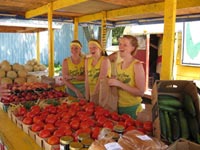 What's summertime without the Sweet Corn Lady?
No trip to the Delavan Lake area would be complete without a stop at the famous bright yellow Sweet Corn Lady stand. For more than fifty years, the Sweet Corn Lady (and her daughters and now grandkids) has been selling produce to locals and vacationers alike. Our famous "try before you buy" motto means that you'll know exactly how tasty the peaches, tomatoes and melons are before you buy!
So if you want to know what summer tastes like, stop by the Sweet Corn Lady stand in Delavan or visit the Sweet Corn Lady truck in Elkhorn.
Products
Sweet corn, tomatoes, peaches, muskmelon and watermelon. These are just some of the delicious fruit and veggies we have at the Sweet Corn Lady stands. We'll also have raspberries, plums, nectarines and new potatoes when available. On Saturdays (at our Delavan location only), we have home-made Amish bread - which you'll want to try with one of our several selections of home-made jam. Don't forget to try our peppers, cukes, onions, green & wax beans, and zucchini too.